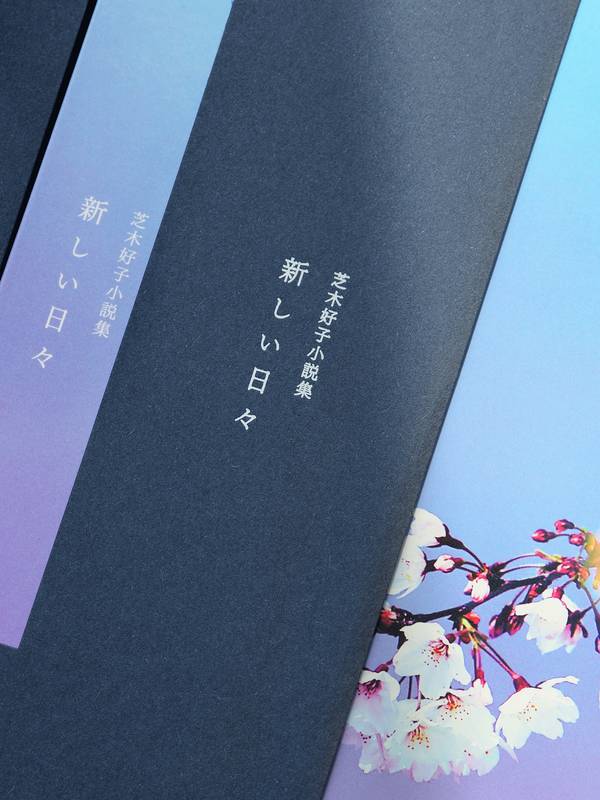 19
The Beginning of a Long Story
The book "Yoshiko Shibaki- A Collection of Short Stories: New Days" is designed and bound by Tatsuhiko Niijima, a member of Shinohara Shiko. The book was be published in two ways: a regular edition with four different cover designs, and a special edition with each book carefully hard-bound by Niijima, in a project that takes advantage of Shinohara Shiko's strengths.
This collection of short stories was published by a private publishing company called Shoshiki Suiiki marking the 30th anniversary of the death of the novelist Yoshiko Shibaki. Shoshiki Suiiki is a one-man publishing house that handmakes and sells books carefully selected by the aesthetic eye of Hiromitsu Kitada, who is the manager and literature concierge at the Tsutaya Bookstore in Umeda. Niijima met Mr. Kitada at an event celebrating the publication of "Ishi" and "Koe" which was introduced here before. That meeting was how this book production was requested. As Mr. Kitada works for a large bookstore, he talked with many customers, and started to think deeply about the joy and sorrow of women living as women, and the way women pursue their lives. The women that appear in Ms. Shibaki's works, regardless of their ages, all live their lives accepting the "present" even while they are shaken by unforgettable past and various events of the time. This collection of short stories arose from Mr. Kitada's wish to deliver these images of women to women who are living in today's world.
A Book that Expresses the Life of Women
When we discussed the design of the binding for the book, Mr. Kitada told us, "I always chose a story with a reference to a flower for the collection. I want you to make a book that's like a flower where the flower and the women overlap." After reading Yoshiko Shibaki's book, Niijima's honest opinion was that rather than feeling glorious towards the future in life, he visualized how women lived hard while carrying the weights of the past, like being pulled by gravity. Niijima interpreted the content in his own ways and wanted to make a book that expressed the life of women. Still, what kind of a book would that be?… As a man in his early 30s, there were many doubts and concerns in the mind about how this book binding should be designed. After contemplating, Niijima decided to incorporate different elements from himself, and proposed a specification that incorporated illustrations and photographs. The two walked around in circles in the large Tsutaya bookstore where they were having the meeting, discussing designs and visuals. Mr. Kitada said he didn't want to use illustrations, and did not want to use human figures on the cover. This was no good, and that was no good. Niijima observed Mr. Kitada and realized how Mr. Kitada picked up a book with a window frame a number of times. That was when he came up with the idea of a design where a window frame is created on the box of the short story collection, and showing flower photographs from the windows. The women that appear in the stories all live while carrying unforgettable pasts. However, they are not sad about the present, and they face their past calmly and they have the strength and flexibility to live while valuing the present. These women are quietly looking at their past selves from the windows. Niijima imagined such scenery and made a binding cover design for a proposal.
In the end, it was decided that flower pictures taken by the photographer Maki Baba would be used. Niijima said that when he saw her works, he thought they were perfect for this collection. Ms. Baba beautifully photographed flowers in bloom, but also withering and falling flowers, buds, and various stages of a flower's life. In Ms. Shibaki's collection, women who appear in the collection are of a wide range of ages from 20s to 80s and their way of lives are depicted. These lives and how flowers live were overlapped, and a design was decided so that Ms. Baba's photographs can stand out. The binding specification was a hardcover superior binding. It was made slightly smaller than the standard size as Mr. Kitada wanted mainly women to read it, and thin heartwood paper was used for the hardcover to make it light and soft. All the four designs used different cover pictures, sleeves, and bookmark colors, with a finish that brings excitement to fine details. Niijima said, "I was happy that Mr. Kitada became interested in my talents looking at the works "Ishi" and "Koe." Honestly, though, I was nervous if I could surpass these past works. Still, I was more eager to live up to the expectations confidently, so I gave ideas from many perspectives."
The Story Leading to the Special Edition
showcased four different types of books that he worked on, that space would look great and will bring excitement. That's what I was thinking during the creation process." Niijima was imagining how people would be happy through the book he made as he continued creation, and completed the Regular Edition. That was when he started thinking, although the Regular Edition is sufficiently high quality as a superior binding book, is it not possible to make something that more directly contains the passion of Ms. Shibaki, Mr. Kitada, and Niijima for the book? Some ideas started growing in Niijima's heart.
That was when Niijima stumbled across another essay by Ms. Shibaki called "Oriori no Tabi." In the book, there was a story about a textile-dyeing artist. It was a story that seemed familiar. This was the starting point to make the Special Edition as if the whole process was guided by something.
Photo : Maki Umaba
Click here for more information about the special edition