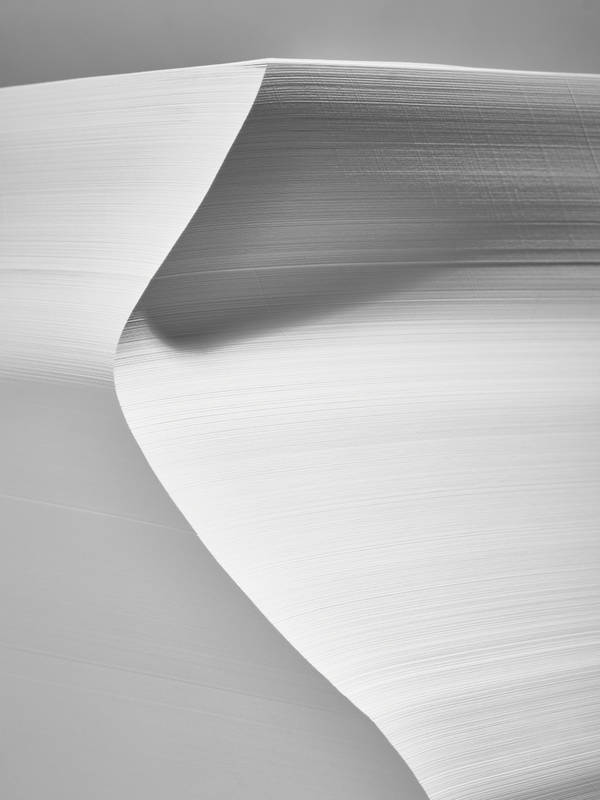 18
A bookbinding company responding to Twitter
If the paper is piled up in multiple layers up to a height of about 2 centimeters and processed with glue, then what we have is a memo pad with pages that can be peeled off, but what if the height is closer to 1 meter…? Then you can sit down at it. "Could it be made into a table?" This is what Kumiko Yoshinaga, one of the directors of Shinohara Paper Works, thought. She left her previous printing company and joined Shinohara Paper Works two years ago. This time, we would like to introduce the "Peelable Table" that she, as a paper lover, has worked on. 
There is a project on Twitter called "Ōgiri Printing", in which printing shops nationwide respond to someone's worries with their products. Mrs. Yoshinaga took inspiration from someone's concerned tweet, which said the following: "this coaster gets the table wet." One day, while she was out having a cold drink at a coffee shop with another team member of Shinohara Paper Works, there was no coaster at that coffee shop, so she placed the glass straight on the table. Sure enough, the table's surface was soon completely wet. While discussing the issue with others, she said "I wish I could peel off the surface of the table as it is," and suddenly thought of the possibilities in solving this problem. She then started working on this subject in earnest. Shinohara Paper Works interpreted this solution as "a table that has no issues getting wet", and made a table's surface that can be peeled off by stacking multiple sheets of paper and applying padding compound. This peelable table is made from dead stock on the verge of disposal that was being kept in the warehouse of a certain paper company. The height is about 85 cm, including the pedestal. 
I want to make use of beautiful paper in its original form
At her previous printing company, Mrs. Yoshinaga was mainly in charge of sales. During her career she worked in a department that only worked on PCs, never actually getting to work with paper. At that time, she saw a lot of unused paper sleeping in the warehouse at my place of employment. It was beautiful paper that could not be called waste material, and she said, "I want to use the paper as it is." Of course, she wanted to work with the paper after all, and underwent a change of mind: she wanted to communicate with her customers through the paper. Paper can be folded, cut, used for wrapping, written on, made into a box, or made into a bag with a handle. She says that a single piece of paper being able to flexibly change into various familiar objects is very fascinating. However, she also remembers feeling some discomfort because sometimes, people assume that if the material used is paper, it must be cheap. There are many types of paper, each one with a different feel to it, and the appearance of printing varies depending on the paper. That is one of its interesting properties. Mrs. Yoshinaga also carries out an activity called "Paper School", to spread the word on the appeals of paper. She believes that paper is a material that can still surprise people and, above all, has the power to create a sense of excitement. 
The encounter with Ōgiri Printing was a great opportunity to give shape to Mrs. Yoshinaga's feelings for paper. The concept of "creating products using waste paper and delving into the possibilities of paper" and what she felt in that paper warehouse back then overlapped, so she started work on the production of this "peelable table" with a very special feeling.
Unexpected orders
This peelable table is fully made to order. It is necessary to listen to the needs of customers and the purpose of the table, and to communicate with each other in detail. One of the rewards of our work is to see the other person's surprise and happiness during this exchange. Recently, the number of inquiries for this article has increased little by little; some people want to use it as a company keepsake or as a stand for exhibition, and and to our surprise, some people living in Okinawa want to use it at home. Whenever we find our everyone's uses for the table, we can't help but go "but of course!" You can scribble on a large bundle of paper, draw a picture, take notes, write out ideas, and get things off your mind. It is a very luxurious usage of paper. But does this really deserve the name of "table"…? We would like to make a product that evolves little by little.