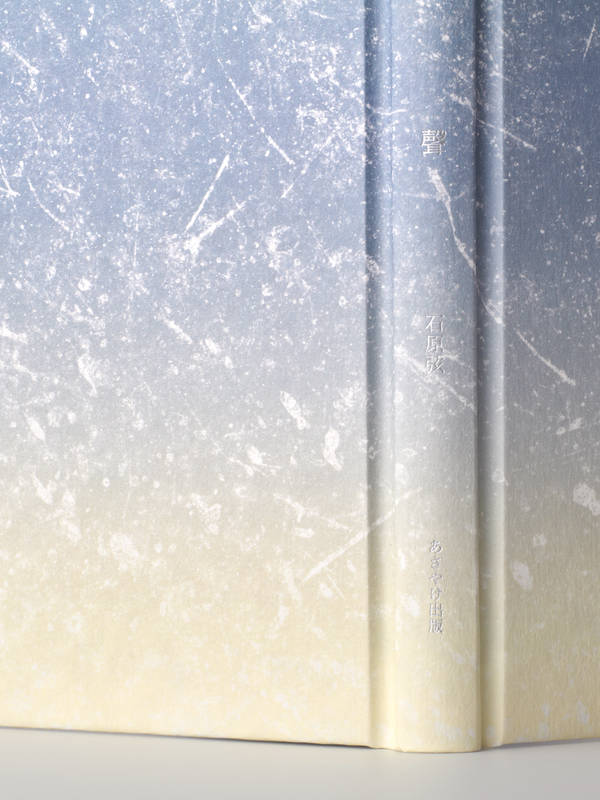 16
Two poem anthologies, born from the view of a sunrise and a feeling of new consciousness.
The journey begins with publisher Asayake (Sunrise) in Gifu Prefecture. 
The poem anthologies "Ishi" (Stones) and "Koe" (Voices). This is the debut collection of Gen Ishihara, who runs a pig farm in Gifu prefecture while simultaneously writing works of poetry. While visiting a washi paper shop that he had planned to see for a while, Nijima talked to the owner, Gifu resident Azumi Yanagawa, who told him, "You know, there's an interesting bookshop in Ena City, called Niwa Bookshop." Out of curiosity, Nijima visited the store and met its owner, Yuta Momose, and was drawn into a discussion regarding books. It just so happened that at this time, Momose was about to open his own publishing company, Asayake Shuppan. And so, Nijima began correspondence with him for these anthologies, and during the first meeting, Momose commented "I bet that if I asked you to compile a collection of Gen's works, you would end up making me something beyond imagination." Nijima was moved deeply by his words, and so began the long and arduous efforts of four people: Ishihara, the husband and wife duo the Momose's, and Nijima to bring these anthologies into creation.
This is the first work published by Asayake. Nijima read the manuscript countless times, digesting the content word by word and throwing his thoughts and feelings into the margins. Until now, he had many experiences compiling books, and to some degree had his guidance assimilated into the final copy. However, this time was different. Momose and the others had their opinions integrated into the book's design well enough, however there was a slight feeling of hesitance at the same time, which lead to hours of discussion. "Ishihara's brilliance isn't quite shining through," or, "This isn't quite right". Nijima suddenly found himself grappling with abstract and vague objections, however, regardless of however long it took or how inefficient it may be, they would make the book they dreamed of making. In this, everyone agreed.
The Momose's held discussions with Ishihara countless times, and through his words, Momose had appeared to have quickly become able to translate Ishihara's world view as a poet, as if looking into his very soul. They courteously strived to then funnel this into the ultimate, tangible form of a book, tirelessly investing their energies into every last detail. Nijima honestly and earnestly exchanged ideas and opinions with the other three, and during one of these discussions felt the most impact from the words of Momose: "Whether it be late at night or in the middle of the day, when I find myself looking for something like a balm to the soul, I pick up a copy of Gen's poems." Nijima looked at the manuscript in his hand, envisioning the picture of Momose paging through it late at night, and thought about how it should turn out, continuing the trial and error process. 
Two anthologies born from one long conversation.
Nijima has remarked that from that conversation, he himself has felt as if a new side of himself has been drawn out, and the knowledge he had about making books had undergone a small, yet noticeable change. In tune, Ishihara, inspired by Nijima's proposed poem layout, also experienced a change. These anthologies were originally planned to be released as a single collection called, "Ishi no Koe", however, from Ishihara's idea of binding the poems themselves to create the layout, the concept of the two sections, "Ishi" and "Koe" came into creation.
Nijima has reflected, "This experience has been completely different to all the times I've compiled books in the past. Every time we talked something new would spring into existence. For the first time, I really felt like I was creating a book."  
A fated connection, only realized through Asayake
Of course, even before that fateful meeting of Momose and Nijima the name "Asayake Shuppan" was already decided, however, the title of the poem that inspired Ishihara to keep writing was also "Asayake", and Momose also remarked that, "When I see the sunrise (Asayake), I feel like the world must be truly blessed." 
A coincidental string of encounters enabled these four to bind together this work, perhaps unknowingly already connected far before, while all gazing at the same sunrise.
A washi paper craftsman, a publishing company and a poet, all set against the backdrop of Gifu Prefecture, whose organic energy also resides in these works.