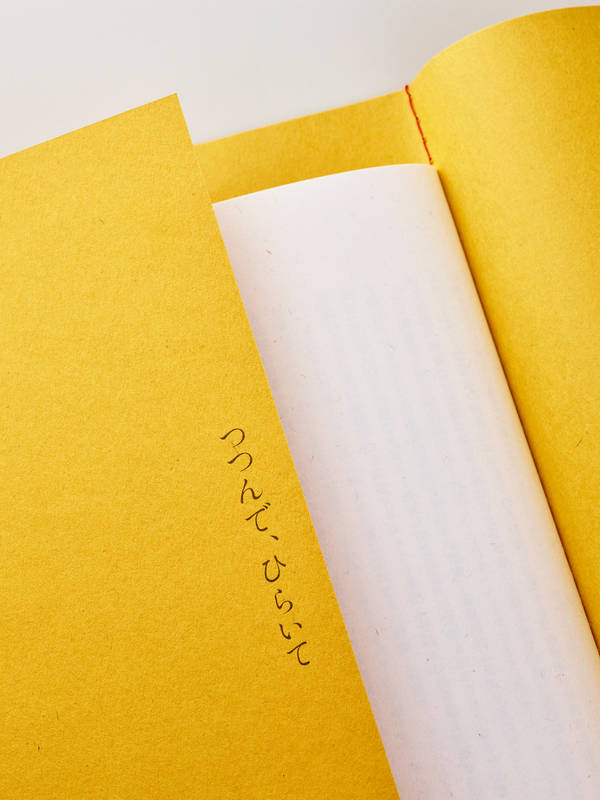 12
In the Hopes of Creating Colophons Like a Movie's Ending Credits
An Exciting Request
At Shinohara Shiko, we were very excited to receive a request to manufacture a pamphlet for a documentary movie about the bookbinder, Nobuyoshi Kikuchi, titled "Tsutsunde, Hiraite". Mr. shinohara was humbled by the prospect of getting to be involved in creating a pamphlet for a movie which would be watched by people with an interest in bookbinding and the book manufacturing process, and was very enthusiastic about accepting this request from the very onset. 
Our client had been turned down by countless manufacturing companies who cited the technological difficulty of producing their requested design, and when they arrived with their book at our first meeting, it was in the form of an unusually-shaped, saddle-stitch design. To start off, we put aside how much the production would cost, and we learned that their ultimate goal was to produce a machine-made book with saddle-stitch binding. Using that as our foundation, we evaluated the best way to produce this design under tight constraints, and were able to produce a design that met their requirements.
A Talk Show for the Movie Attended by the Book Manufacturer 
During our meeting, an employee from the distributing agency for the film told Mr. Shinohara that "this is a movie I'd especially like for people who work with books to see". In response, Mr. Shinohara proposed extending this invitation to all of the people who had contributed to Shinohara Shiko. This proposal ultimately resulted in a screening party and talk show which would be held in a preview room in Shibuya.
There were many individuals from the bookmaking industry who attended this movie preview screening, and before long, people who'd heard of one another but never actually met were exchanging business cards and engaging in lively discussions about their work. The setting had the feel of a class reunion. Then, during the talk show, Junko Tsuda, the chief editor of the magazine, "Design Drawer", the movie director Nanako Hirose, and Mr. Shinohara discussed their impressions of the film. 
Although Ms. Hirose explained that she had cut out a significant amount of content to produce the film, both Ms. Tsuda and Mr. Shinohara shared how there was a profound depth to everything Mr. Kikuchi had to say, and that they had a difficult time holding on to the abundance of thoughts they had about each scene before it cut to the next one, regardless of the fact that there wasn't a significant amount of dialogue or technical description in the film. They also shared how they felt that coming back to revisit the film had the potential to produce many new interpretations. 
A Feeling Shared in Both the Making of the Book and the Movie
Ms. Hirose visited Shinohara Shiko the following day to take a factory tour, and shared an animated conversation with Mr. Shinohara about their respective professions. One of the interesting points of this conversation was when Ms. Hirose explained the importance of a director's ability to reciprocally share and understand the thoughts of all of the people involved in the movie, especially because of the number of the people who take part in the making of a movie. As an example, she brought up how while a camera crew may be shooting for the film under the instructions from the director, she felt that the most important element of filmmaking is to have a shared feeling about what it is that you're collectively trying to produce in the film. This is no different in book manufacturing, which is only made possible through the collaborative effort of many individuals. Every day, Mr. Shinohara struggles with the difficulty of engendering a collective spirit in an age when the book manufacturing industry has become increasingly specialized, and there are countless times when he has questioned himself for holding on to old values in changing times, but his discussion with Ms. Hirose proved to be a good opportunity to reaffirm the value of cooperation and in sharing one's vision with others. I dream of the day when it becomes the norm for every book to have a colophon like the ending credits of a movie, sharing the names of the all the people involved with making it and the elaborate effort they put into each one's design…
広瀬奈々子監督からのコメント
『つつんで、ひらいて』という映画のタイトルにちなんだ観音開きの表紙、ページをめくる紙の触感、ミシン綴じの素朴さなど、手に取れば隅々まで配慮が行き渡っていることがわかると思います。一見シンプルなプレスとパンフレットですが、実現は多事多難で、あらゆる会社に製作を断られた末に、唯一快諾してくださったのが篠原紙工さんでした。
私が実際に篠原紙工さんを訪れたのは、都内での上映が無事に佳境を過ぎた頃。通常の規格から多少外れているくらいの認識はあったものの、いかに大変なお願いをしていたか、このとき初めて冷や汗をかきました。丈違いの表紙と本文を一緒に綴じるには難易度の高い技術が必要であること、これが機械にはかけられない理由。一つひとつの手間暇が、胸が痛むほど理解できて、思わず「すみませんでした。」と平身低頭した私に、篠原さんは真面目な顔をして「厄介だから有り難いんです。」とおっしゃいました。しきたりに縛られない風通しのいい社風は、社長の篠原さんのお人柄そのもの。工場を後にして交わした無礼講のお酒が忘れられないほど美味しかったこと。それ以来パンフレットを手にするたびに、厄介なものに目を輝かせる篠原さんの顔が浮かんでくるようになりました。
デザインしてくださった菊地信義さん、水戸部功さんの思いと、作ってくださった篠原紙工さんの思いがなければ叶わなかったこの形を、映画と同等に、とても誇りに思っています。