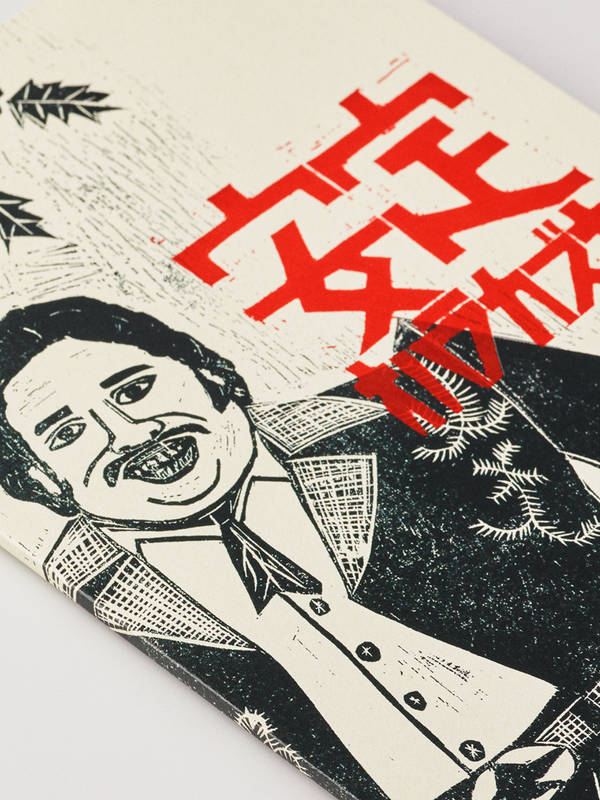 17
The reason why he started carving prints
Kazuya Ohara is one of the directors of Shinohara Paper Works, and this is his print collection, "Stability". 
After an invitation by SHIBUYA TSUTAYA's private label, "NEST PUBLISHING" (which focuses on young creators) to participate in a project called Scramble Book, we decided to produce this art book. I would like to talk about the story of Ohara becoming active as "Kazuya Ohara", not about the book. 
Carving portraits for 40 people at a wedding
His reason to start doing prints as a hobby was because he gifted a message card with a carved portrait to the guests of his wedding. Originally, he yearned to draw illustrations, but developed a complex because he couldn't draw beautiful lines. However, with prints he could erase his lines and felt he could express himself in a more personal way, so he tried his hand at carving the portraits of 40 guests who came to the wedding ceremony. When he was done, he felt a sense of accomplishment from the bottom of his heart, and at the same time a desire to make prints with motifs he imagined instead of portraits. The carved print portraits at the wedding were well received, and it was enough to give him the motivation to make time to carve and start his life's work.
Adjusting stress levels with prints
There is, in fact, another major factor that led him to continue working on his hobby of printmaking for a long time. He loves books and had been working on book-related positions for nearly 10 years before joining Shinohara Paper Works. However, human relations within that company were discordant and work went badly due to this internal strife. The situation did not change, no matter how much effort and improvement he put in. It made him immerse himself in the world of prints, as if to dispel those issues.
In Ohara's words: "when I think about it now, printmaking is a way to dissipate daily stress, and I think that the discomfort with my work environment and my own feelings of awkwardness were converted into energy that I put into carving."
After enduring all he could, he found Shinohara Paper Works while looking for his next work opportunity. 
The world where his prints are exposed 
His prints are now widely known around us because other members of Shinohara Paper Works saw his work and loved it right away, telling him "wow, Mr. Ohara, you're very talented!" By the day after people found him out to have another self as a woodblock printer, he was already known throughout the company. The members who fell in love with his style planned a solo exhibition for him, and printed the pieces that he had carved up to now on large-sized paper so as to give some exposition to his works. Afterwards, Ohara started a personal Instagram account, and his work became more known. He didn't think that his work would be so well accepted by Shinohara Paper Works' members. He seemed surprised and, above all, delighted. 
Ohara says, "the environment greatly influences my prints. The work I carved when I was in my previous position is different from the work produced after joining Shinohara Paper Works. The works after I started working here are cheerful. I didn't think I was particularly talented, but my coworkers and the people I've met through Shinohara Paper Works acknowledged me. I'm happy to have acquaintances and friends who make the most out of my individuality."